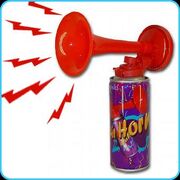 Main article: Audio Notes
On one magical (but short) episode, air horns blasted a cheerful sound behind the rhythmic styling of the Flop House Cru.
For a few weeks in 2011 beginning August, the podcast's setup was screwed up as the podcasting equipment Dan had been using had begun to pick up radio waves. Whether this was an issue which developed with the equipment or caused by a change in the transmission of the station is not currently known
The disturbance caused the loss of the Beastly episode and the next five episodes had to be recorded with Dan's tinny-sounding MacBook. During the recording of the Beastly episode, the underlying hip hop beats varied in intensity and clarity. The section deemed salvagable was released as a blooper episode at the request of fans. It must be stressed, this episode is not canon.
This may be the closest the podcast has come to the spy world of number stations.
Broadcast
Edit
Throughout the broadcast, a male DJ speaks over songs and occasionally plays an air horn sound effect. Club Noctural, Sexy Sundays and Fusion Karnival are mentioned. The station's ID has not been confirmed however there is a lead.
A Brooklyn radio station, TRIPLE9RADIO 99.9FM, a station which describes itself as:
THE #1 CARIBBEAN'S CHOICE IN BROOKLYN, NY, TRISTATE AND WORLDWIDE,
COMBINED WITH TOP DISC JOCKEYS AND ANNOUNCERS
VERSATILITY AT ITS BEST..PLAYING ALL GENRE'S OF MUSIC SOCA,REGGAE,HIP HOP,
DANCEHALL,CHUTNEY AND MUCH MORE..
appears to have be linked to said "Sexy Sundays" at Club Nocturnal, as evinced by tweets stating:
LET'S NOT 4GET "SEXY SUNDAYS" THIS SUNDAY INSIDE OF CLUB NOCTURNAL!!!
LADIES YALL ARE FREE B4 1AM!!!!
The tweets were made using a BlackBerry from an undetermined location. Videos posted on the station's Ustream show ad placement spliced into music, as is heard on the blooper episode.The 99.9 transmitter's proximity to Dan's apartment is not known.
It was suggested Dan get ferrite chokes to shield his audio cables. No one knows what ferrite chokes are.
Ad blocker interference detected!
Wikia is a free-to-use site that makes money from advertising. We have a modified experience for viewers using ad blockers

Wikia is not accessible if you've made further modifications. Remove the custom ad blocker rule(s) and the page will load as expected.