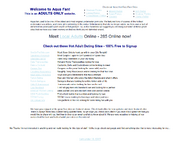 Aquafan.com, originally assumed to be a Aquaman fansite, was a blog dedicated to underwater sex containing one post asking "Underwater Sex? Anybody tried it?". Currently, it seems to be a deactivated porn site due to "a lack of interest from underwater porn lovers in that product". Hopefully, that will soon change.
Mentioned in Movie Minute Number 6: Con Men, when the Original Peaches discussed the shoddy press-pass system of 2008's NY ComiCon. An "aquafan.blogspot.com" representative searching for his press-pass was aided by one of Elliott's coworkers. The story prompted Stuart to look up aquafan.blogspot.com which appears to be related to aquafan.com.
Mentioned In
Edit
Ad blocker interference detected!
Wikia is a free-to-use site that makes money from advertising. We have a modified experience for viewers using ad blockers

Wikia is not accessible if you've made further modifications. Remove the custom ad blocker rule(s) and the page will load as expected.