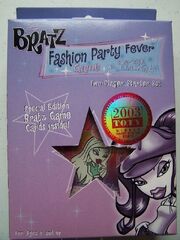 ...or, more specifically, "Bratz Fashion Party Fever Game".
Given by Stu, to Elliott and Dan, as a gift after going to some nerd convention. The person he purchased it from probably thought he was some sort of perv, because he was SO EXCITED to get it. He didn't spend a whole lot of money on it, but just the fact that he actually bought it was enough. Dan should remember these gifts when he and Stuart have their frequent, pre-show fights.
So, anyway, here's a description of the game, from the Internet:
"The game gives Bratz fans the opportunity to throw a party where only crazy-cool fashions and funkalicious accessories make for the ultimate bash. Players work together with friends to get the Bratz dressed in stylish outfits and out to the dance floor before the clock runs out. If the players are successful in swapping fashion forward clothes, and, in completing the Fashion Passion Prism with the Bratz, they'll be struttin' it on the dance floor in style."
However, it does not feature a spellcasting Brat.
Ad blocker interference detected!
Wikia is a free-to-use site that makes money from advertising. We have a modified experience for viewers using ad blockers

Wikia is not accessible if you've made further modifications. Remove the custom ad blocker rule(s) and the page will load as expected.