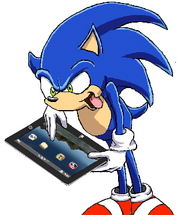 Dan has an iPad! Yes, it does have a wiki entry just for it! When not checking his mail, he's often having others look at the wonders of his futuristic technology. Dude, that thing can run "Sonic The Hedgehog"!
One of the reasons Dan couldn't be bothered to watch all of Green Lantern.
Sigh* It's just so difficult to read emails off this cheap piece of technology. However, it IS good for looking at porn and looking up locations of Vegas strip joints.
Mentioned In
Edit
Ad blocker interference detected!
Wikia is a free-to-use site that makes money from advertising. We have a modified experience for viewers using ad blockers

Wikia is not accessible if you've made further modifications. Remove the custom ad blocker rule(s) and the page will load as expected.