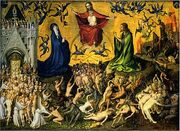 The portion of the show where the hosts decided whether the episode reviewed is:
Good/Good Movie - An actual enjoyable movie (hey, what's that movie doing on this podcast?)
Bad/Bad Movie - So bad, it's bad twice. The most popular result. Can you blame them?
Good/Bad Movie - A movie they kind of like. A guilty pleasure.
During Shocktober, and other special occasions, like the Floppy Holidays, there can be special Final Judgment results, such as:
Totally Scarifying
Frighteningly Funny
Totally Snorifying
No one knows exactly what those categories really mean.
Other Judgments, which may or may not be real judgment categories are:
Wormy boners (the more wormy boners, the better)
Spookily Good/Bad
Terrifyingly Great
Ad blocker interference detected!
Wikia is a free-to-use site that makes money from advertising. We have a modified experience for viewers using ad blockers

Wikia is not accessible if you've made further modifications. Remove the custom ad blocker rule(s) and the page will load as expected.