"

­Thanks for all the inquiries about the health of Lulu, Dan's cat. Unfortunately, he and Sarah had to put her to sleep after 12 love-filled years. Her suffering is over, and now she's sniffing Hallie's boots in heaven. We miss her.

"


     —Flop House website, 31-Oct-2015
After I inquire about the health of McCoy's cat Lulu (somewhat of a Flop House regular), he told me she just passed away and will include an update on the next episode.
"Yeah, let's bum everyone out right at the top," Kalan said improvising McCoy's imagined opening for their final Halloween-themed episode of the month. "Nothing is scarier than death. I put my cat down. Shocktober, everybody!"
To rub extra comedic salt in the wounds, Kalan added, "It was her time... because you chose to do it at that time."
Instead of being saddened or uncomfortable (as, I must admit, I was), McCoy began laughing and cracking jokes, too. "Come on, she died in our arms... tonight."
"Must have been something you said," finished Kalan.[1]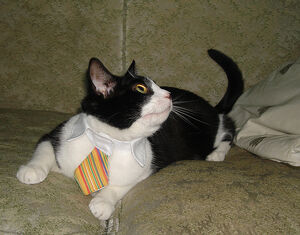 | | |
| --- | --- |
| Dan: | Hey! Hey cat! [...] That's a little podcast bonus for you: me yelling at my cat. Everyone will enjoy that. |
| Andy: | I don't — do you normally — I don't think I've ever heard you yell at your cat. |
| Dan: | Normally she doesn't claw at the furniture in the middle of a podcast. |
| Stuart: | She, you know, has a sense of decorum normally. Not today. |
---
↑ Emily Shire "Meet the Buddies Behind 'Flop House,' the Internet's Funniest Film Critics" The Daily Beast,

28 October 2015

. http://www.thedailybeast.com/articles/2015/10/28/meet-the-buddies-behind-flop-house-the-internet-s-funniest-film-critics.html (accessed

3 November 2015

)
Ad blocker interference detected!
Wikia is a free-to-use site that makes money from advertising. We have a modified experience for viewers using ad blockers

Wikia is not accessible if you've made further modifications. Remove the custom ad blocker rule(s) and the page will load as expected.