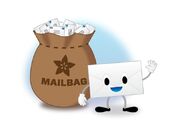 Everyone's favorite section of the show - where Elliott makes up a song about getting listener mail while Dan tries to talk. Just when you think Elliot is done with the song, you are WRONG, he is NOT DONE. Dan should just stop talking and let the song finish to completion. Oh wait? The song is done? Okay...no wait it is not done!
Once done as a duet with Hallie Haglund , creating the current pinnacle of mailbag songitude. 
A great Mailbag Song compilation by I Love Bad Movies.
History of the Mailbag Song SegmentEdit
Episode #28 was the first to include a mailbag song
Episode #44: Knowing
This Episode saw Elliott's break into a mailbag song only to be told by Dan that the first thing to be read was not a letter but a blog post. The song went thusly:
Mailbag Song:
Dan: I got some letters here.
Elliott: Letters!?! We get letters! We get lots and lots of letters!
Flop Hoooouuuuuusssee!
Episode #46: Obsessed
Edit
This Episode saw Elliott a similar mailbag song. The text goes as follows:
Mailbag Song:
Dan: So, I have a couple of things here... uh... from the...
Elliott: Are those letters?!
Dan: Uhm.. from the... er.. It's part of the Flophouse Mailbag.
Elliott: Letters!?! We get letters?! We get lots and lots of letters!?!
LETTEEEEEEEEEEEEEERRRS!
Episode #55: The Ugly Truth
Edit
After almost ten episodes without a hint at another attempt to introduce the world to the Mailbag Song, Elliott Kalan makes another shy attempt at a letters jingle, evidently getting more creative:
Mailbag Song #3
Dan: We can move on to the Flophouse Movie Mailbag.
Elliott: Dudlid-Dudl-did-Deeeeeeeeewwww! Didlidlidlidlidl-didid-dudid-dewwwwwwwwww. MAILBAG!
Episode #62: Legion
Edit
Having reduced the letter-intro to small comments like "I like letters." or "[The Letters Segment] is my favorite part!", the world had still not seen a proper letters song. This didn't change with Episode 62:
| | |
| --- | --- |
| Dan: | Alright, so now I'm gonna read a little listener mail, we got some good letters this time. |
| Elliott: | Letters, we get letters. |
| Dan: | Uhh... |
| Elliott : | Letteeeerrs. |
Episode #73: Devil
Edit
Elliott just repeats the intro from 11 Episodes eariler. Way to be creative, Elliott!
Episode #83: I Am Number Four
Edit
Elliott finally sings the first proper, overly long Flophouse Mailbag intro ever!
Dan:
So, uuuhhhh.... We have some letters here.
Stuart:
Elliott's favorite time of the night!
Elliott:
My faaavorite time of the night: Lettertime!

Let's read some letters and talk about 'em, gettin' in touch with the fans, what do they think? Letters, LETTERS, LETTEEEEEEEERRRSSS!!!!!!

Stuart:
Soooo...
Elliott:
LET'S READ SOME LETTERS TONIGHT!
Stuart:
See, you were...
Elliott:
Tonight's the night for letters.

Let's get some letters and read 'em.

Dan:
Okay.
Elliott:
Read 'em and weep with laughter.

LETTERS!

Dan:
We have to...
Elliott:
Talkin' 'bout letters!
Dan:
We have to cut that... theme down, that is...
Stuart:
Yeah.
Elliott:
That's only like a tenth of it.
Dan:
Now that I hear it on the show, it seems much longer.
Elliott:
There's nine more verses.
Stuart:
You've been working on that for weeks!
Elliott:
Letter and letters and letters and letteeeeerrs.
Dan:
Okay, you get the idea.
Elliott:
No numbers here, just LETTERS!
Dan:
So, first off...
Elliott:
Letters!
@51:45
D: Now it's time for the Flop House Movie Mailbag.
E: And I'm just going to break it down, guys: we don't have time for a song. Let's keep moving.
D: Yeah. Uh, so this first letter --
E: (singing) Time for the letters, first letter of the year!
D: Oh, god damn it!
E: The first letter of the year! (Not really.)
D: What the fu...?!
E: Anyway, continued...
D: The most inaccurate theme!
S: (singing) Do do do doo... Do you have more song, Elliott?
D: (singing) What would we do, baby... [Elliott joins in.] without letters? What would we do, baby...
E: There's a time for love and a time for letters, let's open the Mailbag! You can have a letter here, or put it there. Time for the bag! Time for the bag!
D: What ever happened to the letters? The milkman, the paperboy, the evening letters?
D: (regaining composure) All right...
S: (singing) Letter from the mailbag, never met him before...

Ad blocker interference detected!
Wikia is a free-to-use site that makes money from advertising. We have a modified experience for viewers using ad blockers

Wikia is not accessible if you've made further modifications. Remove the custom ad blocker rule(s) and the page will load as expected.