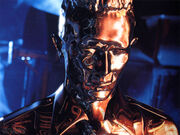 From Episode 77: Skyline
He's living chocolate that can turn into any shape, primarily bunnies, squares, footballs...and creme eggs? No, that's how you know it's the chocolate robot, there's no creme in the creme egg. It's not very dangerous, because it's chocolate. You want to eat it though, because it's delicious.
Ad blocker interference detected!
Wikia is a free-to-use site that makes money from advertising. We have a modified experience for viewers using ad blockers

Wikia is not accessible if you've made further modifications. Remove the custom ad blocker rule(s) and the page will load as expected.