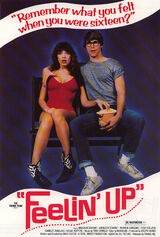 Talked about in extensive and gratuitous detail on the podcast (first brought up on the Untraceable episode). The trick is to insert the penis into a box of popcorn, causing the person who said popcorn is shared with to eventually touch aforementioned penis.
The Floppers have two hypotheses about how this trick would work in reality (both containing fatal flaws):
Cut a hole in a filled box of poporn and then insert the penis, even though that would mean the popcorn would pour out of the bottom.
Insert the penis into an empty box, then take it to the concession stand and have the employee fill the box with hot buttery popcorn, scalding the penis in the process.
Most famous for being employed by Mickey Rourke's character in Diner, and on the movie poster for Feelin' Up.
Related to the online video series Big Sausage Pizza in form and spirit.
Mentioned In
Edit
Ad blocker interference detected!
Wikia is a free-to-use site that makes money from advertising. We have a modified experience for viewers using ad blockers

Wikia is not accessible if you've made further modifications. Remove the custom ad blocker rule(s) and the page will load as expected.