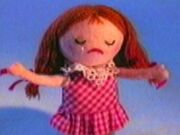 As Dan McCoy once asked in Movie Minute Number 18: Misfit Toys: What is wrong with the rag doll on "Rudolph The Red-Nosed Reindeer"?
Mr. McCoy suggests that she is just hanging around the problem toys to feel better about herself.
King Moonrazor is pretty crazy too.
Ad blocker interference detected!
Wikia is a free-to-use site that makes money from advertising. We have a modified experience for viewers using ad blockers

Wikia is not accessible if you've made further modifications. Remove the custom ad blocker rule(s) and the page will load as expected.