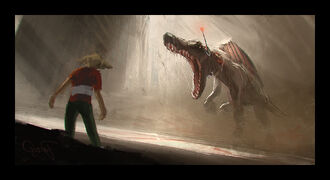 Brief Overview
Edit
"What if Penny met a Dinosaur?" is a question asked on various websites, including YouTube and DeviantArt, by a mysterious user. Dan briefly developed an unhealthy obsession this question which led him down a Lovecraftian path of madness.
What if blank met a Dinosaur?
Edit
The same question was asked of these characters -
Kermit
Bob from Sesame Street
Zack Weezy from Dragon Tails
Ernie and Bert
Arthur the Ardvark
Grover
Super Grover
Big Bird
Telly
Abby Cadabby
Buddy the Dinosaur
Elmo
Roy G. Biv
Gumby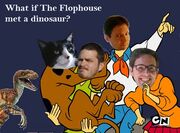 Would u Touch April's Boobs?
Edit
"Would u Touch April's Boobs?" is another question asked by the same mysterious user. It is unclear if this question was addressed to actual people or characters appearing in the Teenage Mutant Ninja Turtles cartoon.
Ad blocker interference detected!
Wikia is a free-to-use site that makes money from advertising. We have a modified experience for viewers using ad blockers

Wikia is not accessible if you've made further modifications. Remove the custom ad blocker rule(s) and the page will load as expected.